The theatre in the Woods...
The theatre in the Woods is a space open to everyone and every kind of activities wich can fit in the energy of the place where it's built. It was born from the dream to have finally the possibility to organize workshops, artistic residences, shows and many other different events, out from the cities center. Self-built, self-organized, made of organic materials, and disconnected completly from cultural offices, european funds, and strange economic movement.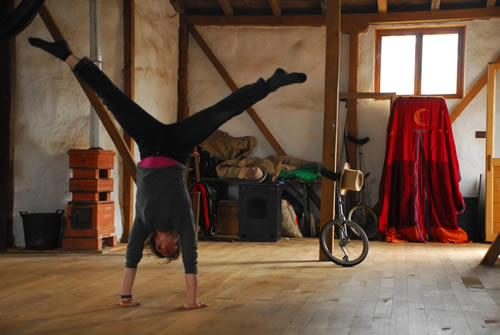 This was the dream of Barabba, street perfomer in the quest of his clown since 2001, but Barabba thinks that he did enough with building and financing this space…
Now is coming the time for anyone who wish to organize something in.
The theatre in the Woods is open to everybody and in self-organization. IT IT IS NOT RENTED, it is simply free offered (of course the donation are welcome to continue the project)
The theatre in the Woods is made of 1000 straw bales, 40 cube meters of wood (most of it recycled), 30 cube meters of heart, and 10 cube meters of lime and sand. The interior dimensions are 15mt by 7mt and 6mt of height. It is heated by wood and the electricity comes from a solar system.
It is situated next to Rovinj, at the Croatian Istrian coast, 100km away from Trieste (and 10 km away from the sea..)
By the theatre is the commun kitchen, 45mt square, ready to host around 15 hungry artists, and also a space to sleep.
Next to the theatre we can as well provide you somebody to take care of the children, somebody to prepare meals, a carpentry workshop ready to build every kind of scenography and objects, food from the garden, and home-made bread with organic flour from our fields…
But for all these last things, we have to agree about a compensation…
Untill now we have hosted aereal acrobatics, juggling, and clown workshops, mostly residences of artists in single or in group, working on the creation of their show, and yoga, dance, theatre, impro….. Acoustics are very good for the musicians…
If you are looking for a space like this, you can contact Barabba,
IT +39-328-8065594 HR +385 98-1395656,
via mail info@clownbarabba.it
And you can also have a look on Facebook